The Wedding of Your Dreams – Only at Madden's
Planning your wedding is an exciting time filled with tastings, timelines, and tulle.  It's easy to get bogged down in details, but don't let the "to-dos" dull the sparkle of your "I dos."
Madden's professional events team will take the guesswork out of planning and executing your big day.  Hosting your destination wedding at Madden's bestows benefits beyond the beautiful lakeside setting:  think one-stop-shopping for the wedding couple and a relaxing vacation for all of your guests.
---
Madden's Venues
From the moment your guests arrive at Madden's, they will know this wedding is going to be something special.  Our Wilson Bay indoor and outdoor wedding venues are beautifully designed and well-equipped to host your dream wedding.  And you will rest easily knowing that your guests will be comfortable in their well-appointed guest rooms.
Madden's Voyageur and Wilson Bay guest rooms offer lake views and are conveniently located near the wedding venues. When your guests stay at Madden's, you will have time to enjoy the lake, The Spa, and the golf courses with all of your very favorite people.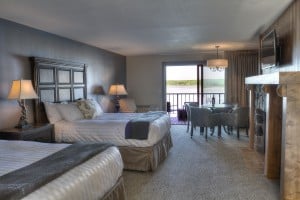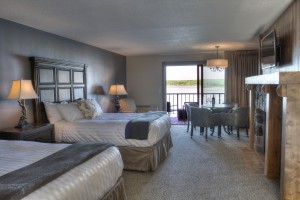 Wilson Bay Lodge offers 3 distinct wedding event spaces under one roof- and all with sunset views of Gull Lake.
Reception: Your guests will mingle between the outdoor deck overlooking Wilson Bay Beach and the spacious indoor lounge with plentiful soft seating.
Dinner: Wilson Bay Dining Room offers seating for 220 and a full wall of windows overlooking Gull Lake.
Dance: Ready for another change of scenery, your guests will get out of their seats and onto the dance floor, in a room adjacent to the dining room.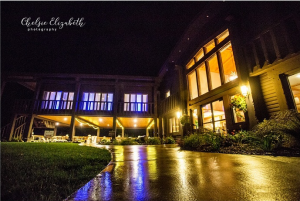 We don't nickel-and-dime. Our function rental fees include all of the necessary equipment for your ceremony, reception, dinner, and dance.  Microphones, sound systems, risers, table linens, napkins, serviceware, glassware, chairs, tables, and staff- we've got you covered.
Your space will be set and ready for you and your team of friends and family to decorate by 8 am. No need to remove your decorations or personal items until the next day.
Wilson Bay is elegantly decorated and will need only a few personal touches to make it your own. Whether you grace the tables with a simple centerpiece or drape flowers from the chandelier, it will be lovely and uniquely you.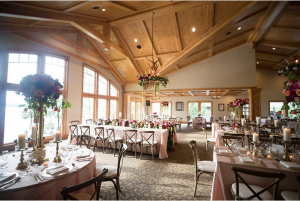 Plenty of talented photographers, hair & make-up stylists, DJs, bands, florists, and other vendors call the Brainerd area home. We are happy to share our recommendations, just ask!
---
Wine & Dine
Madden's Food & Beverage team will bend over backwards for you to ensure that your food and beverage choices are perfectly executed and that all of your guests enjoy their dining experiences.
We're persnickety about our food. All of our catering is done in-house using fresh ingredients.  Meet Madden's culinary team.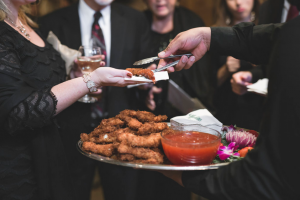 To ensure our food is fresh and served at the appropriate temperature, we prepare, plate, and serve immediately. Hot boxes compromise quality and we never use them.
It's important to us that our guests enjoy their meals. We are happy to accommodate all dietary requests (allergies, vegan, vegetarian, etc.).
Casual to fine dining options are available for your rehearsal dinner. Grill-your-own by the bonfire, lake-side cookout, buffet-style dinner, or a candle-lit plated meal- there are no wrong answers.
For a fun and flexible twist on your wedding dinner, offer food stations rather than a plated meal. This is your best bet to customize your menu to your personal style.
Our onsite Pastry Chef will work with you to create the wedding dessert of your dreams- anything from a traditional cake to churros!
Select a bar package that offers the services you desire at your preferred price point- whether it's hosting just the reception, beer and wine only, or everything all evening.
Don't worry about additional bartending fees or having to purchase Host Liquor Liability Insurance, but please do remember to tip. The team is working hard to ensure your day runs smoothly.
---
Tips from the Pro
Kelsey Karlen, Madden's professional Wedding Planner, knows how to plan a wedding.  Her expert tips cover everything from invitations to wedding reception ideas.
Guest List: You can expect a 15-20% no response rate on your RSVPs.  Keep this in mind when selecting your venue based on the size of your guest list.
An easy way to achieve a cohesive look to your theme/décor is to incorporate your bridal party. Going with a nautical theme?  Have the guys wear suspenders and a touch of blue.
Consider your ceremony location when selecting your bridal party apparel. A traditional full suit for guys isn't a must in your non-traditional beach ceremony.
Your guests will be wowed when they open the envelope of your custom invitation. One of our favorites featured a hand painted replica of Madden's.
Budget friendly options abound for wedding invitations. Ecommerce sites like Etsy allow you to purchase editable pdfs you can print at home.
After you've thanked your friends and family at the rehearsal dinner, invite all of your guests staying at the resort to an after dinner bonfire.
Non-traditional dessert options make a fun wedding favor thank you gift. Wrapped custom sugar cookies are a great takeaway that your guests will actually use (eat!).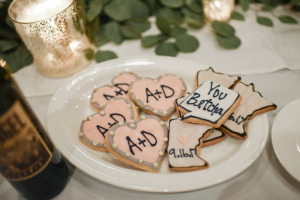 Put your personal spin on bar service by offering a signature cocktail or a keg from your favorite brewery.
Steer clear of long lines at the bar by passing beverages to your guests as soon as they arrive to the reception- beer and wine are your best bet.
---
Let's Start Planning Your Wedding
Your wedding at Madden's will be magical- and a cinch to plan.  You'll be in the competent hands of our professional wedding team of culinary, conference service, and planning staff who will tend to every detail of your dream wedding.  Share your vision with us and we will expertly guide you through it all.
Looking for winter wedding ideas?  Ask about hosting your winter wedding at Madden's.
Contact Madden's to start planning your wedding or to request more information.