Send a message to [email protected] or call  218-855-5917  to book your appointments!
Become a member of our Spaaah Club to receive email updates on the latest specials!
---
Spa Specials
Wednesday, September 21
Take 20% off The Mellow Moonchild Wrap, The Max Facial, or the Botanical Bliss Pedicure 
Thursday, September 22 
25% off any 90- or 75-minute Service 
Friday, September 23 
Book two 60 minute or longer services get 25% off both services
Book three Services and get 30% off all three 
Saturday, September 24 
20% off the Seasonal Pedicure
15% off Farmhouse Fresh Products 
Sunday, September 25 
$15 off the Seasonal Massage (Only on 60- or 90-Minute Services)
$15 off the Image Signature Lift
$15 off the Luxury Pedicure
---
Seasonal Services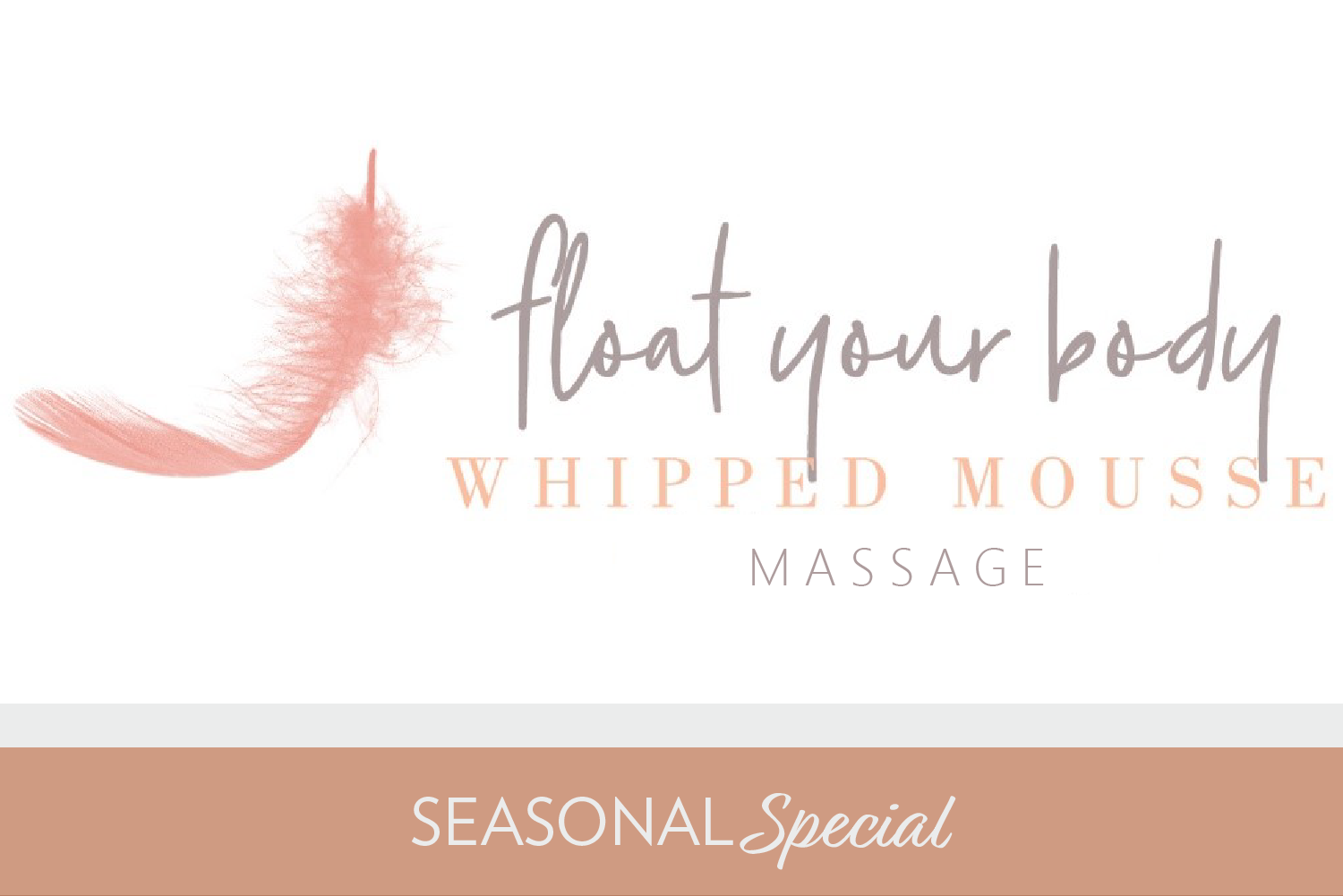 Float Your Body Whipped Mousse MASSAGE
A light-as-air whipped body mousse kneading is yours for the taking! You'll drift off into a sunny state of mind when skin is massaged with U.S. grown, non-GMO botanical oils to give you all the nourishing vibes. This fluffy blend is also abundant with vitamin C and full spectrum hemp oil rich with cannabinoids to bring out your most natural glow. Float on, friend!
(60/90 Minutes)
Sun-Wed $115/$150 | Thurs-Sat $125/$160
---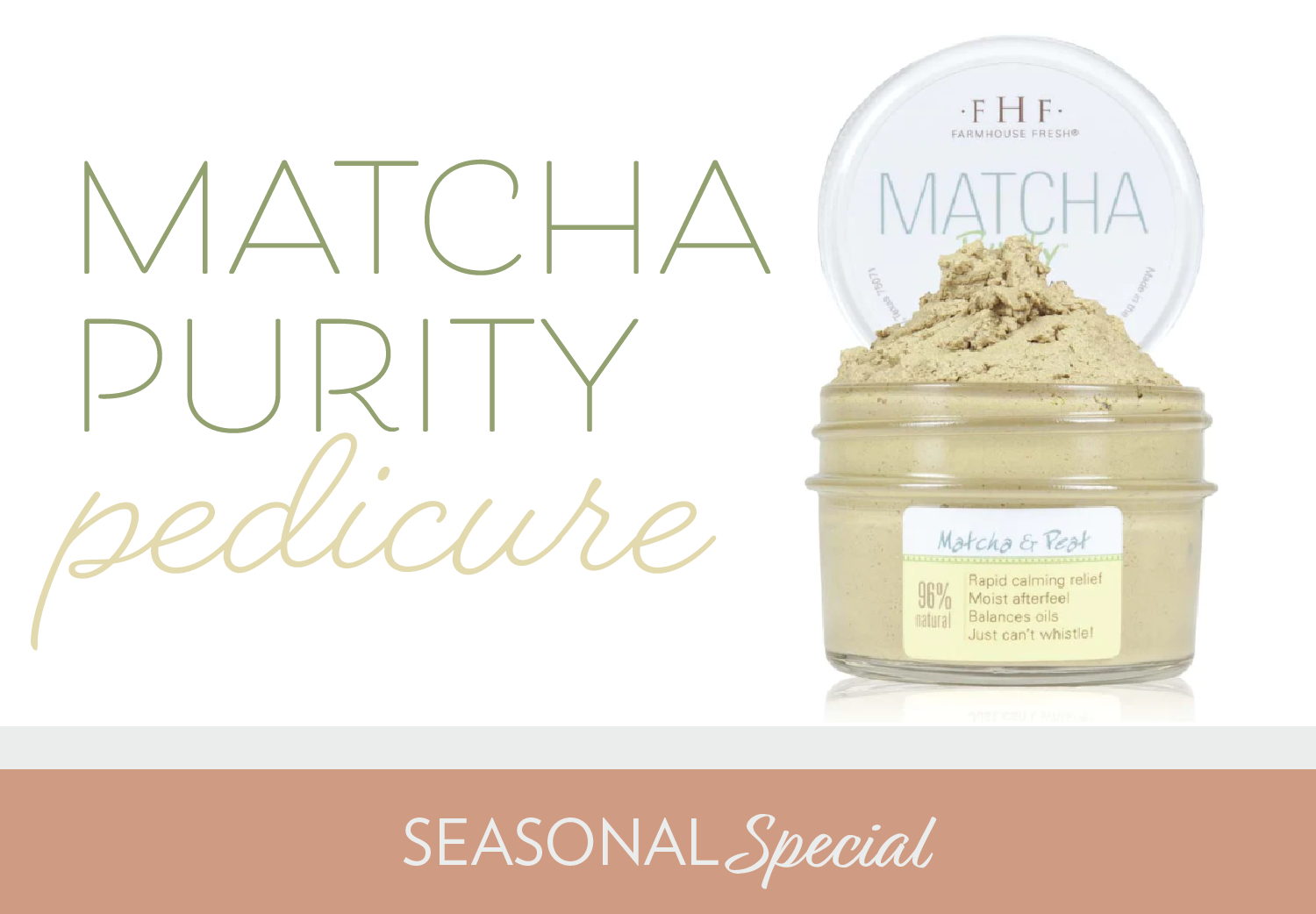 Matcha Purity PEDICURE
Tranquility lives within the layers of this purification treatment. We begin with a warm Nectar Milk Soak infused with skin-calming chicory root and sweet almond oil. Once softened, skin is purified and exfoliated smooth with red Arizona montmorillonite clay and fine grain volcanic pumice that pull bacteria and toxins from the surface of skin — leaving pores refined and tightened. Next, you are wrapped in nutrient-rich vegetative peat mud, flush with organic bionutrients that developed over thousands of years from plants and minerals. Skin is calmed and irritations vanish. This ritual is complete with an Agave Nectar Oil massage that melts away any aches and tension in your calves, feet and  toes. (60 Minutes)
Sun-Wed $70 | Thurs-Sat $80
---
Desert Willow Ageless Hydrating FACIAL
A creamy Green Tea Milk Wash begins by nourishing skin while cleansing. Next, you're treated to a dazzling and crisp aronia fruit and rose water tonic! Follow with a clarifying mud exfoliation with Arizona red clay and desert willow extract that draws out dirt, toxins, and bacteria, leaving unbelievably clear skin in its wake. An Agave Nectar Oil steaming compress plumps the look of your skin with a special blend of hydrating extracts, giving you an incredible, light youthful glow. Treat yourself to an enriched vitamin C & peat moss mask before a dazzling Three Milk Ageless Moisturizer deeply hydrates with advanced peptides to reduce the look of wrinkles. Finally, we focus on the eyes — Crow Catcher eye perfecting peptide serum is worked into the delicate under eye area, the lids and crow's feet — to help reverse wrinkles, dark circles and lines with a clinically proven formula that recaptures your youth. (60 Minutes)
Sun-Wed $95 | Thurs-Sat $105