Send a message to [email protected] or call  218-855-5917  to book your appointments!
Become a member of our Spaaah Club to receive email updates on the latest specials!
---
Spa Specials
Saturday, January 28 – Sunday, January 29
20% off the Signature Lift Facial
25% off the Botanical Bliss Pedicure
30% off the Tropical Bliss Wrap 
+ Get a Free Baby Foot Bundle if you spend over $250
Appointment must be on date listed to receive special offer. Cannot be redeemed on alternate date. Availability subject to change. 
---
Seasonal Services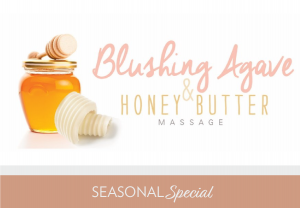 Blushing Agave & Honey Butter Massage
You will delve into pure relaxation and be released from tension as you are massaged deeply with a nourishing oil made with certified organic sunflower seed oil and scented with notes of cherry and coconut milk. Feet and hands enjoy an added bonus as they are painted in a golden honey glaze serum — made of certified organic honey, sunflower seed oil and coconut oil — and then cocooned in a steaming towel wrap for deep penetration.
(30/60/90 Minutes)
Sun-Wed $70/ $115/$150 | Thurs-Sat $80/$125/$160
---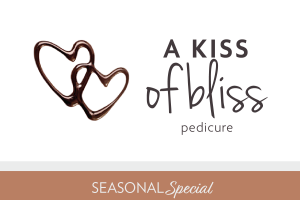 A Kiss of Bliss Pedicure
Swoon into a spicy-sweet cinnamon soak as skin is nourished and warmed by grapeseed, olive fruit and orange peel oils. Then, an organic shea butter sugar scrub — you'll fall madly in love if you're not careful — transforms rough skin into baby-soft newness. You'll be painted in an antioxidant-packed CoQ10 cocoa treat — with a devilishly decadent chocolate softening mask. A white coconut and pineapple scented shea and cocoa butter massage finish leaves you in truly delightful relaxation bliss. (60 Minutes)
Sun-Wed $70 | Thurs-Sat $80
---

Back to Youth Facial
So creamy and dreamy — let's start with a coconut milk cleanser followed by a tonic chockful of ingredients like aronia berries and rose water we call Vitamin Berry. Next, a gentle, manual peel brightens & resurfaces with a slew of fruit acids to reveal your softest complexion yet. A little redness from this peel is expected, so we calm with a nourishing avocado butter, extract, and oil mask. We illuminate it all with a CBD-rich brightening serum, paired with a Moon Dip ® whipped Mousse facial moisturizer.
(60 Minutes)
Sun-Wed $95 | Thurs-Sat $105