Send a message to [email protected] or call  218-855-5917  to book your appointments!
Become a member of our Spaaah Club to receive email updates on the latest specials!
---
Spa Specials
Stay tuned for more specials!
---
Seasonal Services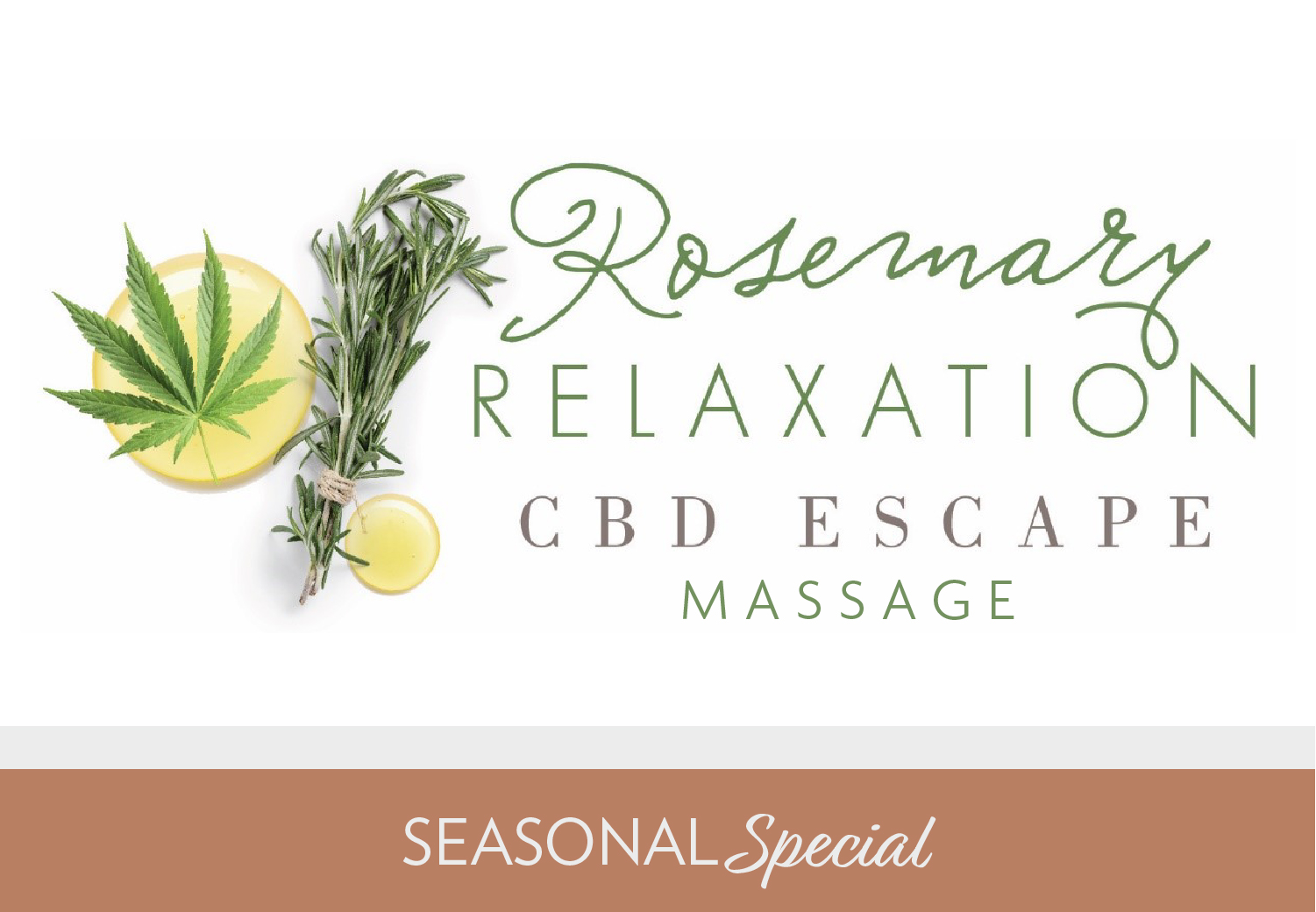 ROSEMARY RELAXATION CBD ESCAPE MASSAGE
You'll begin with earthy notes of rosemary and mint filling your senses as a warm compress wraps skin in hydrating vitamin-E splendor. Lost in the warmth, you'll begin to dream you've been transported from your treatment room to a sun-drenched oasis. Now muscle tension is gently caressed away with a skin-restoring HiBio™ hemp massage oil with CBD – warming on contact, this blend is rich with lycopene and antioxidants to replenish skin with moisture.
(60 minute)
Sun-Wed $110
Thurs-Sat $120
---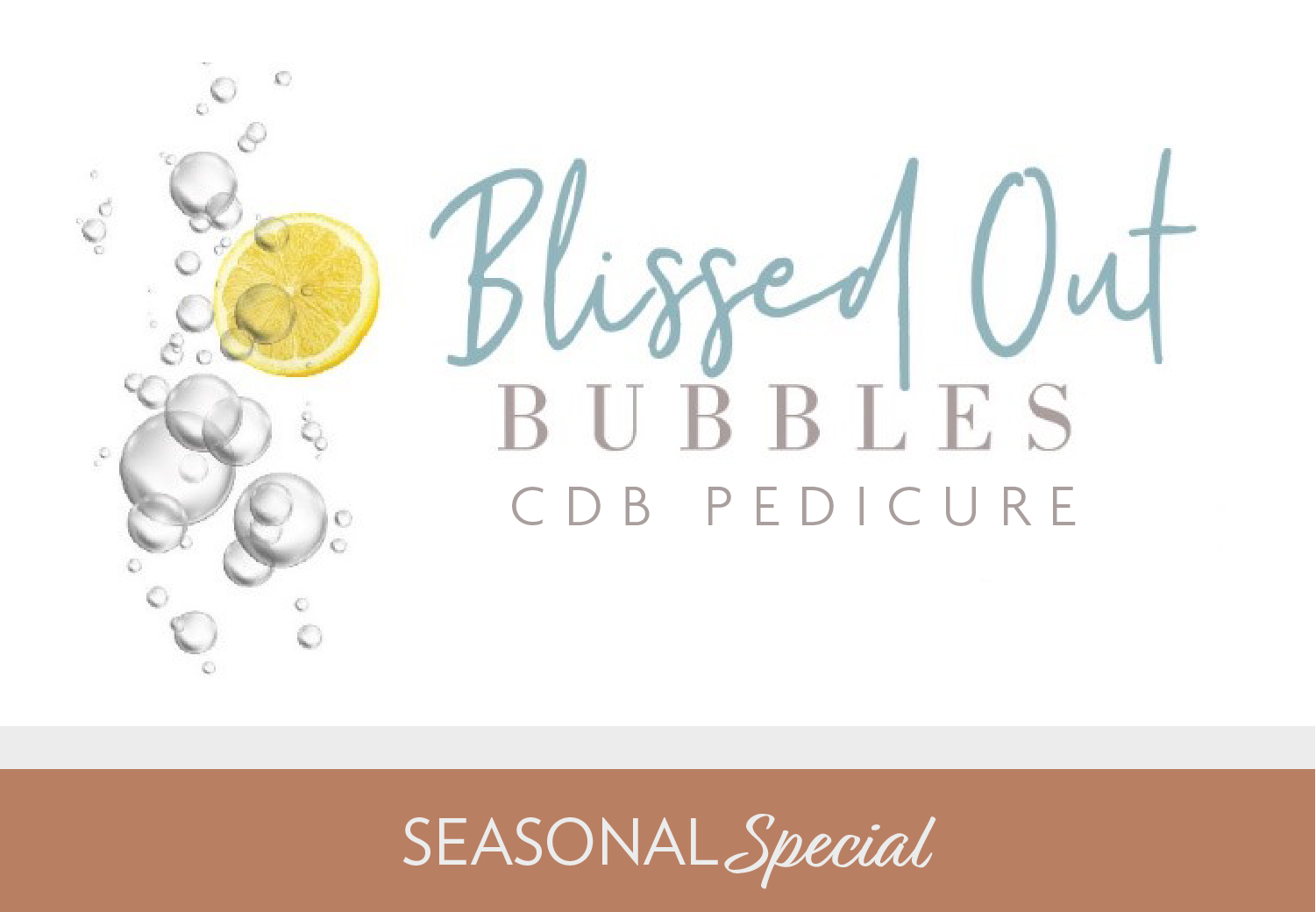 BLISSED OUT BUBBLES CBD PEDICURE
Bask in bubbles! We begin this foot treatment with a dreamy CBD-infused soak – let soft notes of mint and rosemary set the blissed out mood. Then skin is buffed with natural sea salts and the warm scent of toasted cream – delicious! Next, indulge in a bubble mask – this bubbly blend of Arnica Montana Flower, aloe and Green Tea Extract soothes inflammations and chapped skin – even eczema and rosacea sufferers can rejoice! After a warm rinse, enjoy an uplifting massage with a body mousse infused with skin nourishing botanical oils and fast absorbing, full spectrum hemp oil – rich in cannabinoids and over 15 vitamins and minerals. Skin sips up the U.S. grown, nonGMO soy and safflower oils that work to repair with vital fatty acids, as the skinrestoring antioxidant retinol helps to nourish. Breathe easy as a zingy citrus scent fills your senses! Who knew bubbles could bring so much bliss?
(60 minute)
Sun-Wed $65
Thurs-Sat $75
---
BANANA + WATERMELON SMOOTHIE FACIAL
A facial full of firm! Complexion is first cleansed with a creamy green tea extract and calming coconut milk blend. Next, pores take a deep breath of 'ahh' as a rose water and aronia fruit extract tonic is applied. A carefully crafted plantfoliant™ blend with organic cucumber extract clears complexion for a banana and New York-grown echinacea mask. Once painted, you can actually feel this delicious blend tighten! Now firmed, a resveratrol-rich serum replenishes complexion with all the good stuff. A hyaluronic gelée moisturizer quenches complexion with vitamin C and squalane to brighten skin. Finally, an under-eye transforming serum is applied to visibly reduce the look of fine lines!
(60 minutes)
Sun- Wed $95
Thurs-Sat $105
---
 DARLING CLEMENTINE BODY WRAP
Begin with a skin dazzling whipped Sweet Tea Shea Butter Scrub with juicy notes of peaches and ginger. Next, a Prickly Pear Cactus Toning Serum warms on skin, with an antioxidant-rich olive fruit oil wrap to seal all the goodness in. Once cocooned, relax in the warmth as the Cactus Toning Serum tightens the look of skin surface texture. This treatment would not be complete without relishing in the splendor of a foot massage with Clementine Body Oil – a glistening, citrus oil that helps replenish your skin's softness while bringing out its best glow.
(60 minutes)
Sun- Wed $100
Thurs-Sat $110