Celebrating Over 90 Years of Madden's History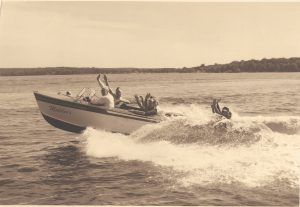 Vacationers started traveling to Minnesota's Lake Country back at the turn of the 20th Century. The trek was arduous via train and horse-drawn livery, but travelers were drawn to the picturesque, unspoiled beauty of the lakes area, including the stunningly beautiful Pine Beach Peninsula of Gull Lake. From that basic yearning to get in touch with the natural splendor of the area would eventually come what is known today as Madden's on Gull Lake, Minnesota's 'classic' resort.
Back to the Beginning
It all began back in 1909 when entrepreneur T.H. Harrison made plans to build a resort at that spot. Eventually, his son, John, and a partner, Chester Start, built a golf course and then a hotel. Prospects looked rosy; visitors had started traveling by motorcar to Gull Lake.
But when 1929 arrived, the project faced financial doom when the stock market crashed and the Great Depression began. By 1932, Harrison and Start were in deep financial trouble and leased out the golf course to Jack Madden and his Uncle Tom for $500 for the season.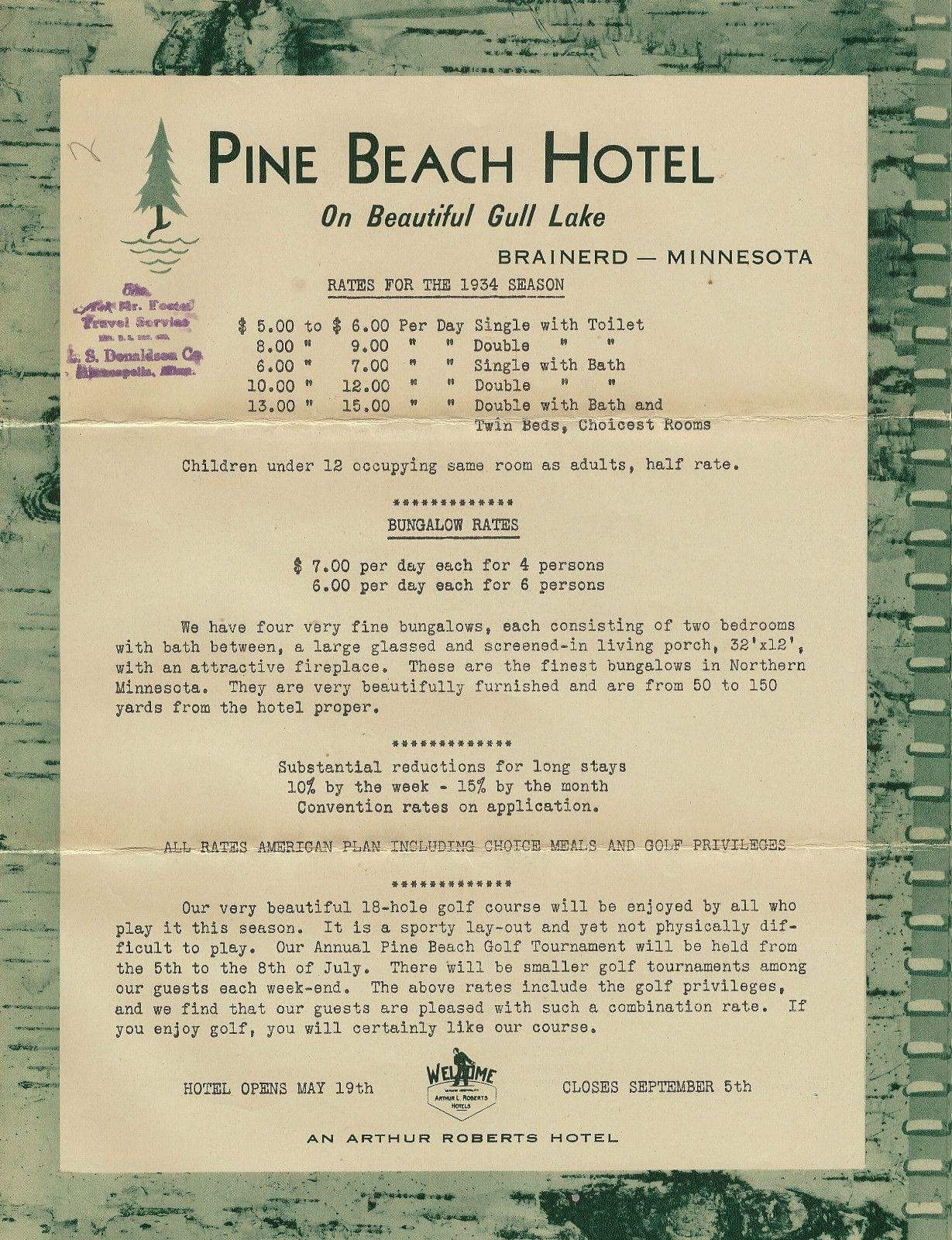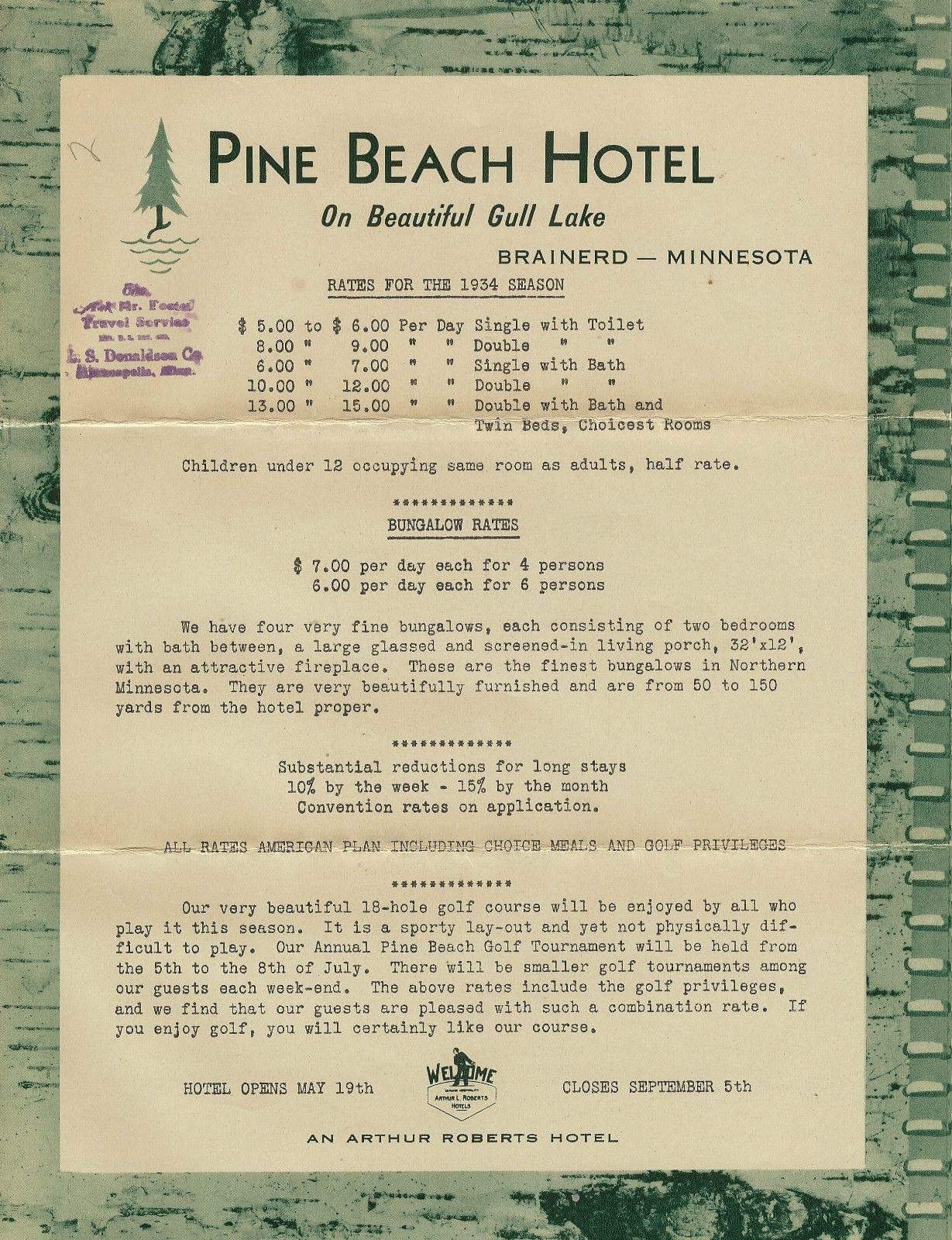 Even at that modest price, the Madden's couldn't make their lease payment. It was an era when caddies were paid 25 cents a round and when many workers earned as little as $20 a month. Vacations were a luxury many could not afford during the hard times.
That might have seemed like the end of the resort dream for the Madden's. But Harrison and Start were desperate. They agreed to sell their course and clubhouse for no money down.
After that start, the Madden's built a tiny three-cabin resort called Mission Point, a partnership with former course owner Chester Start. These modest housekeeping units were far different from what Madden's guests find today.
Mission Point's owners at first didn't know what to charge when their first vacationers checked out, according to Jim Madden, Jack's brother. By 1941, the two brothers, Jim and Jack, had become the sole partners in Mission Point and the Pine Beach Golf Course.
A New Era
During World War II, Jim Madden reported for active duty, and Jack and wife Peg ran the resort which had been renamed Madden Lodge. They ran the Lodge, the golf course and another recently acquired property, the Pine Edge Inn in Little Falls, MN.
After the war, the golf complex expanded and a former desk clerk, Brainerd native John Arnold, became a partner in the operation. At about the same time, a new facility named Madden's Voyageur was built on the west shore of the Pine Beach Peninsula, adding 40 more units to the resort.
Then in 1964, disaster struck. A devastating fire completely destroyed the golf course clubhouse. The fire proved to be a blessing in disguise.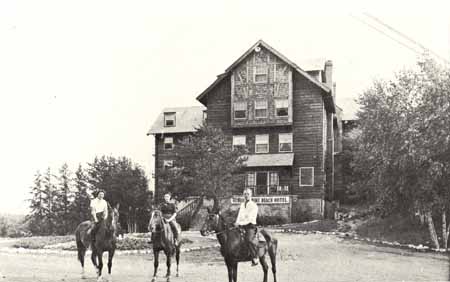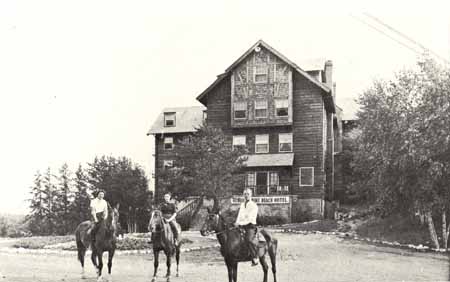 "Fires are always a disaster," said Jim Madden, reflecting on the calamity afterward, "but we came back from the ashes very well. It may have been the best thing that happened to us." In fact, Madden's response to the fire has become a point of resort pride. Jim Madden describes as one of the highlights of his hospitality career, the fact that Madden's was open for business the next day.
Madden's redesigned and rebuilt the Golf Club which today hosts two restaurants, two lounges, a golf pro shop, and front desk.
Soon after the fire, Madden's also bought the adjacent and historic Pine Beach Hotel. It was incorporated into the combined Madden Inn & Golf Club. In 1969, Madden's bought Ruttger's Pine Beach Lodge on the Peninsula's west shore, giving Madden's ownership of all resorts at the base of the Pine Beach Peninsula.
Jack Madden passed away in 1978 after a brief illness and Jim Madden died in 2001. C. Brian Thuringer, who had managed the Madden-owned Pine Edge Inn in Little Falls, joined the resort management staff in 1973. He and his wife, Deb (Madden-Thuringer), now own the resort. Their children, Ben Thuringer and Abbey (Thuringer) Pieper are now actively involved in the operations and sales and marketing areas of Madden's.
As our guests will attest, today's award-winning resort, located on more than 1,000 acres, anticipates the wishes and desires of vacationers and offers them fantastic golf, upscale dining, lakeside spa, tennis, activity programs for children, biking, shopping, and art gallery with painting classes and almost every kind of on-the-water recreation possible in Minnesota, including fishing. 285 guest rooms comfortably accommodate 600+ guests.
Since the 1960s, Madden's began catering to business groups, conferences and conventions in order to expand our 'open season.' To accommodate those groups, the beautifully designed Town Hall Conference Center was built in 1986.
Quality is our number one priority at Madden's. Like others among Minnesota's most famous resorts, Madden's has distinguished itself by placing an emphasis on gracious hospitality, quality and diversity.  Whether expressed by Madden's introduction of new recreational activities, its rebuilding and refurbishing program that has upgraded even the oldest accommodations to meet the standards and expectations of guests, or the addition of The Spa and The Classic at Madden's, a common thread can be traced throughout:  "Our philosophy, " says Thuringer, "is simply to provide the best that Minnesota has to offer."
On July 12, 2015 a storm of epic proportion knocked the wind out of Madden's sails, taking 85 guest rooms, a wedding venue, meeting space and a golf course out of service for the remainder of the 2015 season. New construction and repairs were made during the winter and Madden's launched the re-opening of all areas. The dedication and resiliency of the family and staff were put to the test and all came out better and stronger than ever. Minnesota's "Classic" Resort is now Minnesota's "Newest" Resort!