Madden's Welcomes the 2012 Resort Season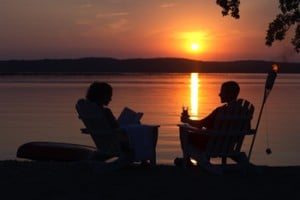 Each year we open Madden's anew and welcome in our first guests. Often a lot has changed since we closed the previous fall, with small renovations and remodeling to enhance the Madden's experience. We have a lot to look forward to this year. Our golf courses are already in great shape and we get to introduce the new Spa at Madden's, a luxury spa experience just feet from the shores of Gull Lake.
Tradition has given us our annual opening party. Each year guests rise early to watch our bagpiper stroll across the historic Pine Beach East golf course, signaling the opening of the golf season at Madden's. Guests can then enjoy our bloody Mary bar and a weekend of fun and relaxation.
As we open for our 83rd season, we look back over the years and remember all of the changes that have made Madden's the resort that it is today. Our guests are what have kept us going all these years. Sharing memories with each of you is what drives us to open year after year. We look forward to welcoming you this season and can't wait to share the experience with you.