2015 Menu Items at The Classic Grill
With a new season comes a lot of new and exciting opportunities. Our team over at The Classic Grill has been perfecting their skills in the kitchen and have released some new menu items that will excite your senses and delight your tastebuds.
We've outlined below the newest items that have been added to the roster but FIRST, take a look at these mouthwatering images.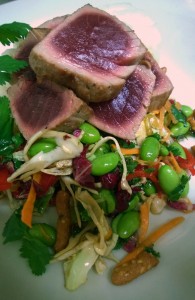 Ahi Tuna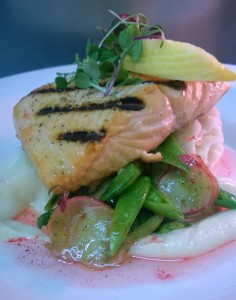 Grilled King Salmon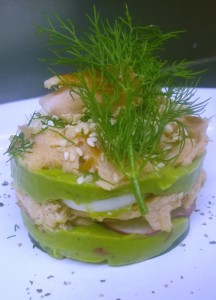 Smoked Salmon Nalopeon
Appetizers:
Quiche Lorraine:   $8.99
Arugula salad, roasted tomatoes, pecorino cheese
Smoked Salmon Napoleon: $13.95
Smoked Alaskan Salmon layered with cucumber, hard-boiled egg, guacamole, radish, toasted sesame seed, fresh dill
Spinach Beef Puffs:  $13.95
Beef tenderloin, quanciale, port poached mushrooms, blue cheese, spinach, puff pastry
Entrees:
Grilled lamb Rack:   $23.95
Herb grilled lamb lollipops, cauliflower roasted tomato salad, goat cheese mushroom duxelle, chive oil
Duroc Pork Tenderloin Medallions:   $22.95
Grilled Duroc pork, Broccoli Pine nut salad with prunes and Italian sausage, pecorino cheese, beurre blanc
Manhattan:  $38.95
Grilled 10oz Manhattan, bleucheese honey butter
Scallops & Shrimp:  $24.95
Mango pear salsa, pistachio jalapeño mint pesto
King Salmon:  $24.95
Grilled salmon, parsnip puree, basil snap pea salad, beet oil
Ahi Tuna:  $21.95
Crunchy salad greens, red peppers, carrots, edamame, sesame wasabi vinaigrette, crunchy sesame clusters, cilantro
Seafood Platter For Two:  $59.95
Ahi Tuna, crunchy wasabi edamame slaw, sesame wasabi dressing
Grilled king salmon, parsnip puree, snap pea salad, beet oil
Seared scallops, mango pear salsa, pistachio jalapeño mint pesto
Coconut shrimp, sweet plum sauce
Caramelized onion mashed potatoes, asparagus
Penne Pasta:
Pancetta, shallot, garlic, red pepper, penne, made to order parmesan cream
For a full menu rudnwon at The Classic Grill, simply click here — and don't forget to make your reservation by calling 218.829.2811.
See you soon!
-The Madden's Team