THURINGER FAMILY RECEIVES FAMILY BUSINESS AWARD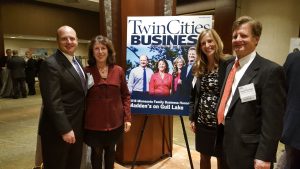 Madden's on Gull Lake, an award-winning resort and vacation destination located on Minnesota's Gull Lake, is pleased to announce that the Thuringer family has been recognized by Twin Cities Business magazine with a 2016 Minnesota Family Business Award. The ceremony, which took place on Wednesday, Nov. 9 honors five outstanding family-owned businesses that add to Minnesota's economy and overall quality of life. Deb (Madden) Thuringer, her husband, Brian Thuringer, and their two children Abbey (Thuringer) Pieper and Ben Thuringer, were in attendance to accept the award.
Madden's on Gull Lake was initially opened by Jack and Jim Madden in the early 1930's and was later taken over by Brian Thuringer and Deborah (Madden) Thuringer. After spending more than 30 years growing up at and working on the property, Abbey and Ben have stepped into leadership roles at the property as of 2016. Together the two siblings work closely with the resort's 350-person staff to carry on the tradition as Minnesota's classic vacation destination.
"We're extremely honored to be recognized for a Minnesota Family Business Award," says Abbey Pieper, Treasurer & Chief Sales & Marketing Officer of Madden's. "Our goal for Madden's is to make it a place where all families and businesses can gather together and enjoy all that we've been able to enjoy for many years. This resort is truly a magical place for loved ones to gather and we're always listening to their feedback about what they want out of their quality time spent with us."
Earlier this year, Madden's was listed no. 2 on Conde Nast Traveler magazine's list of Best Resorts in The Midwest – an honor that Abbey and Ben have accepted with much pride. The two look forward to continuing their family's legacy and eventually passing the reins down to their own children which make up fourth generation of the Madden's family.