Madden's 8th Annual Closing Party
Much to our dismay, the harsh reality of winter is on its way and our doors will soon be closed for the season. Get your last fix of Madden's on Gull Lake until next spring at our 85th Annual Closing Party, Oct. 10-12, 2014. We've curated the ultimate weekend getaway for the entire family.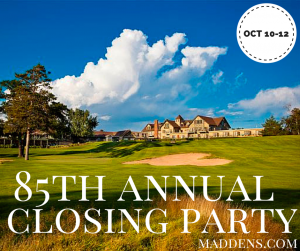 From tennis to trapshooting, Bloody Mary bars to bagpipers, croquet to comedy shows and everything in-between, we'll help you squeeze all of your favorite Madden's activities into one jam-packed weekend in Brainerd.
Do you prefer to lay low? Relax at a morning yoga session, enjoy a beautiful beading or painting class, or embrace your inner wine-o on a Happy Hour pontoon cruise. The choice is yours!
Highlights of the weekend include the 4th Annual Chilly Challenge, and exclusive comedy show featuring Jason Schommer and Scott Novotny.
Book your final 2014 trip to Madden's on Gull Lake today and experience the finest fall getaway that Minnesota has to offer.
Until next time,
-The Madden's on Gull Lake team