Guest Post: Tom Hoyt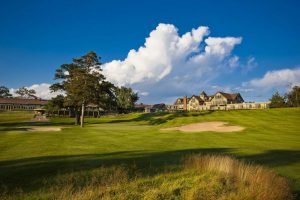 A number of years ago my wife Kimberly and I embarked on a quest to play golf together at 500 courses, and in all 50 states.   We are far from scratch golfers but thought it would be a interesting activity for us to pursue, and at the same time have us visit parts of the country that might not otherwise be on our radar.
We crossed Minnesota off the list with a visit to Maddens.  It was perfect for mind and body while letting us experience a few of the Gopher State's 10,000 lakes. 
The golf was a great mix of the fun, friendly and family interactions we experienced at the aptly named and on-site "Social 9".  A throwback to the way the game used to be taught.  Children learning from parents and grandparents without the burden of compressed tee times and rigorous course constraints.
The Pine Beach East course was open, forgiving, and just steps away from our golf villa room. Less than five minutes away, Pine Beach West offers more of the same, and an 18th hole that parallels the driving range and the East Gull Lake Airport.  Hitting balls while trying to decide if the float plane you see will be landing next to you or next door on the lake is a memory I won't soon forget.
Then there is The Classic at Maddens – one of the more visually stunning 18-hole layouts that we have experienced.  For the quality and experience, it's a course you'd expect to pay twice as much for in a more southern, trendy location.   Designed and built by superintendent Scott Hoffman, it has a simple elegance with multiple signature holes and even more where the camera might be the most important item in your bag.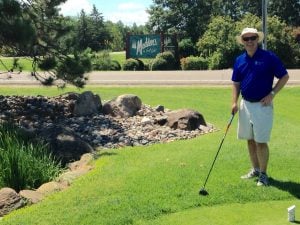 Above all, Maddens reminded us of a simpler time.  When multi-generations came to relax, to enjoy nature and each other.  When I took that right turn from Pine Beach Road onto Pine Beach Peninsula past the entrance sign I could only imagine the number of wood panel station wagons over the years that had done the same amongst shouts of "we're here !" from the back seat. 
In telling a fellow golf traveler about Maddens I described it as "like going back in time, but not being stuck in the past".   I was feeling a bit Don Draper-ish for such a clever slogan, only to discover Maddens describes themselves as a place that "you can do it all or nothing at all."   Now I know how Ken Cosgrove and Peggy Olsen felt for all those years on Mad Men.
 -Tom Hoyt, guest at Madden's on Gull Lake