Give the Gift of Madden's for the Holidays
Thanksgiving is nearly here and you know what that means, LOTS of turkey and LOTS of shopping deals.
At Madden's on Gull Lake we believe the holidays are about spending time with your loved ones, not about standing in line for hours on end waiting for the season's hottest deals while you freeze your butt off.
Are you with us? Well we have the
PERFECT
gift idea
for you and your loved ones and the best part? It's only a few clicks away! You can purchase this gift without even getting our of your pajamas.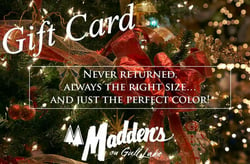 Who wouldn't love the gift of lush green golf courses, stress relieving spa services, swimming pools, a water ski school, miles of lakeshore, delicious restaurants and more?
Give the gift of Madden's by purchasing a gift card that can be used anywhere at the resort. It's the
perfect gift
for anyone in your family and is the perfect excuse to hunker down with a hot cup of cocoa to plan your visit during the warm and sunny months of 2015.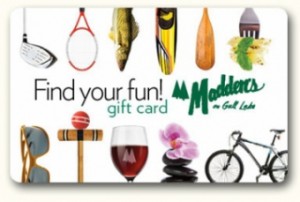 What are you waiting for? Order your Madden's gift card online now….
Purchase right here!
Or call our Reservations Office at 800.642.5363.
-The Madden's Team