A Craft Cocktail Dinner with Tattersall Distilling
Madden's Resort is hosting a craft cocktail dinner you don't want to miss! The dinner will be a four-course dinner, paired with cocktails created by Dan Oskey, founder of Tattersall Distilling and Cocktail room.
Tattersall spirits and Liqueurs are the result of research, experimentation and dedication to the finest ingredients available. Bartending started as a college gig for Dan and quickly transformed to lifelong passion. He set the bar at the Strip Club Meat & Fish creating everything from scratch. Tonics, bitters, mixers — you name it, he made it.
Dan and Chef Paul Fitzpatrick have created complementary courses to suit palates that are ready for full flavor foods and creative cocktail combinations that will leave you wanting more.
The dinner setting will take place in the Madden's Lodge Dining Room, an elegant, upscale lakeside dining experience on Gull Lake. Surrounded by water on three sides, the dining room sits on historic Mission Point at the entrance to Steamboat Bay. Space is limited. Call to reserve, call Dana: 218-855-5912 or 800.642.5363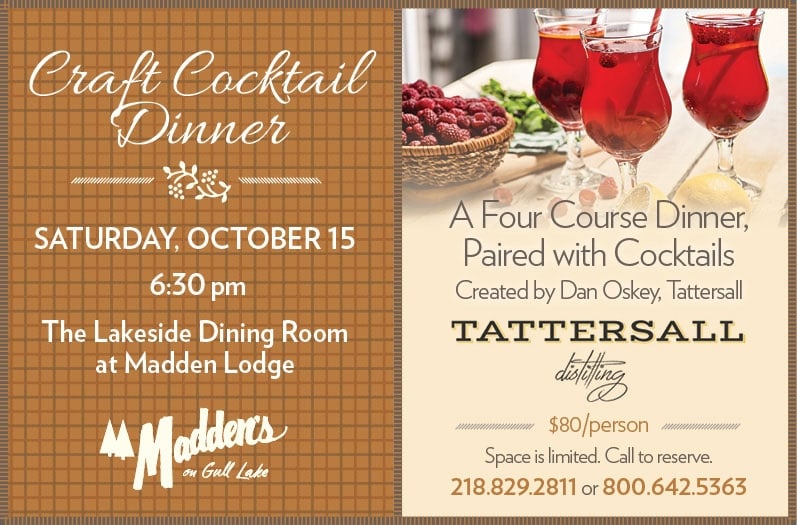 Course description
AMUSE
Cold-Smoked Escolar, sour apple confit, Löjrom caviar, dill crème fraiche
Cocktail: Vichy 75:Gin, Crème de Fleur, Lemon, Rosemary-Pear Syrup, Cava
COURSE ONE
Beet Carpaccio, frisee, peppered bacon, goat cheese, truffleCocktail: Voyageur Cocktail: Aquavit, Blueberry Liqueur, Mint, Lime, Habanero Bitters
COURSE TWO
Duck Confit Ravioli, taleggio cream, crispy oyster mushroom, roasted heirloom tomato
Cocktail: Jerry Burns: Grapefruit Crema, Barreled Gin, Basil, Lemon, Salt
COURSE THREE
Dry-aged ribeye, smoked shrimp & sweet corn salad, grilled corn & buttermilk broth
Cocktail: Maddhatter: Bourbon, Italiano, Sour Cherry, Amaro, Angostura Bitters
COURSE FOUR
Honey & cheese plate
Cocktail: Fogcutter: Vodka, Crème de Cacao, Lemon Juice, Raspberry Syrup