Coming Spring 2023: NEW Saltwater Pool Deck at Madden's on Gull Lake
The Pool Deck at the Madden Inn is undergoing a major renovation this winter to create an enhanced poolside and dining experience for guests. The deck, which overlooks Pine Beach East Golf Course, will be revamped to include a 1080 square foot saltwater pool, additional poolside seating with pergolas, and a spacious outdoor bar area. Construction began in early November 2022 and will continue through the winter with a completion goal of Mid-May.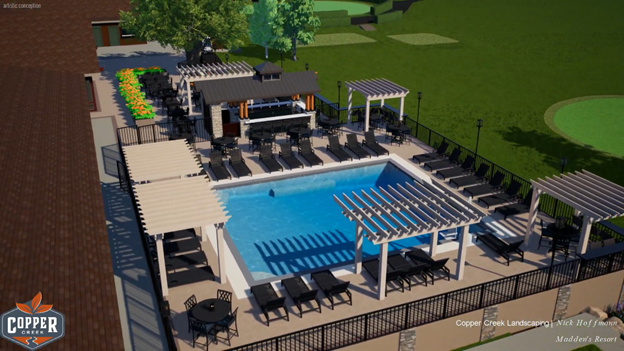 Saltwater pools have all the benefits of chlorine pools, but are gentle on the eyes and skin, better for the environment, and have no harsh chlorine smell. A salt chlorine generator machine converts the salt in the pool into a "pure" form of chlorine that leaves the water feeling silky smooth.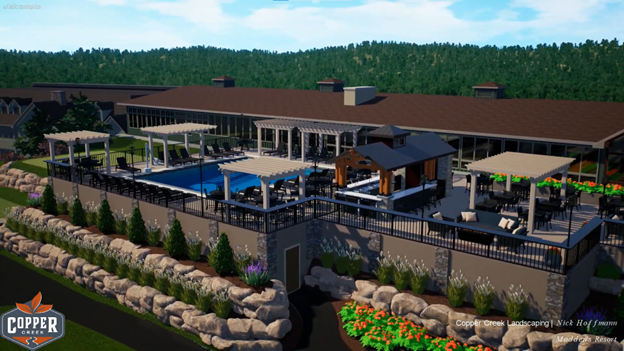 Features
1080 sq ft Saltwater Pool
5 Pergolas for Shaded Poolside Lounging
Expanded Deck with Increased Seating
Cedar and Natural Stone Design Elements
Natural Gas Fire Areas with Soft Seating
Poolside Beverage Station with Bar Seating
Bar with Custom Blender Stations and 12 Beers on tap
Renderings
Progress Updates
Follow along as the pool and deck come to life!
Video Updates
First Look (October 2022)
Demolition (November 2022)
Groundwork (February 2023)
Pool Poured (March 2023)
Follow along on Instagam!
@maddensresort
Progress Gallery