Chef Darrell'sSpring Shrimp Scampi Risotto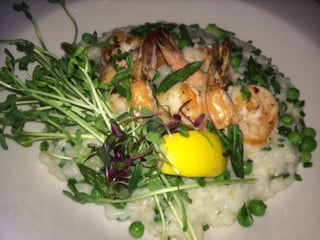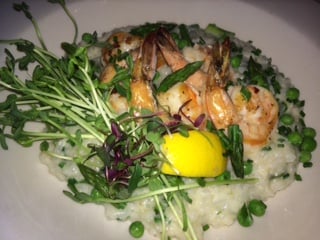 We like to believe there are 2 types of people:  those who love risotto and those who have never had it.  Smooth and creamy, decadent and delicious- it checks all of the boxes on the comfort food checklist.  It is arguably the king of all rice recipes and definitively the most popular dish on the menu at The Classic Grill.
The Classic Grill is closed until Friday, April 6th, but we could never ask our risotto fans to go without.  Chef Darrell Lorenz makes risotto at The Classic Grill all of the time and shares his fool-proof recipe.  Try this easy dinner recipe once and it's sure to become one of your new favorites to make, that is, until Chef Darrell can make it for you again!
Inspired by thoughts of spring, Chef Darrell has added fresh seasonal ingredients that can be easily swapped out each season.*
Chef Darrell's Pro Tips
Heat stock to a simmer and blanch asparagus before you begin the risotto; make scampi when the risotto is almost finished.
Blanched Asparagus
Drop asparagus into boiling, salted water.  Boil 1- 1½ minutes.  Remove and immediately transfer to ice water to stop the cooking process.
Risotto Recipe
25-30 min cook time, serves 4
1½ cups Arborio rice
½ cups yellow onion, chopped
4 tablespoons butter
½ cup white wine
6 cups chicken, seafood, or vegetable stock- heated to a simmer (important that it's warm)
½ pound asparagus, blanched and cut in ½ inch sections
4 tablespoons chives, diced
½ cup green peas
½ cup parmesan, shredded
2 tablespoons butter, cold
In a medium- large sauce pot, heated to medium, add 4 tablespoons butter and chopped onions, sweat about 2 minutes.
Add Arborio rice, stir to heat rice about 1 minute.
Add white wine, stir until mostly absorbed.
Add 1 cup of stock, stir until mostly absorbed.
Continue to stir and add stock 1 cup at a time until absorbed.  Cook until rice is al dente or to preferred doneness.  You may not need all of the stock.
When finished, it will be creamy and thick.
Add blanched asparagus, peas, and chives.  Cook 1-2 minutes to heat through.
Finish- and make it even creamier!- by stirring in shredded parmesan, 2 tablespoons cold butter, kosher salt,  and black pepper, to taste.
Top risotto with shrimp scampi and extra parmesan. Serve and enjoy!
Shrimp Scampi Recipe
1 pound large shrimp (16-20 per pound), peeled and deveined
2 tablespoons garlic, chopped
¼ teaspoon crushed red pepper
¼ cup dry white wine
2 tablespoons lemon juice
¼ cup butter
Kosher salt, to taste
Chopped chives, for garnish
Start with large saute pan.  Add olive oil, heat on medium, 1-2 minutes.
Season shrimp with kosher salt.
Add shrimp to pan.
Add chopped garlic and crushed red pepper, turn shrimp over.  Take care that the garlic doesn't burn.
Add white wine.
After most white wine has evaporated, add lemon juice.
Add butter, stir until melted.  Shrimp should be fully cooked to 145 degrees.
*Seasonal Swap Outs
The asparagus, peas, chives, and shrimp scampi are stand-ins for any combination of vegetables, herbs, and proteins limited only by your imagination.  Why not try these combinations as the seasons change?
Summer: corn, spinach, and chives with grilled salmon
Fall: roasted butternut squash and brussels sprouts, sage, with crispy pancetta
Winter:  roasted carrots and parsnips, thyme, with roasted pork tenderloin
The Classic Grill will be open for dinner every evening at 5 pm- starting April 6th with a special menu tasting event you won't want to miss- and every day at 11 am for lunch, starting Friday, April 27th.
We look forward to seeing you again in the spring!