Make a Splash–Indoors or Out!
Soak up the sun in the great outdoors at one of three pristine sandy Gull Lake beaches or two outdoor pools, or enjoy the comforts of the indoors at Madden Inn or Wilson Bay indoor pools. With more pool and beach options than any other Brainerd Lakes Area resort, Madden's retains a spaced-out feel even on the busiest summer weekends.
Madden's pools and beaches are exclusive to Madden's guests and members. Wristbands are required when using these facilities.
---
Pools
Madden Inn Saltwater Pool (Outdoor)
Coming Spring 2023! Located off the main lobby at Madden Inn, the expanded pool deck will include increased poolside lounge areas, beverage bar access, and a 1080 square foot heated saltwater pool. Learn more about this project here.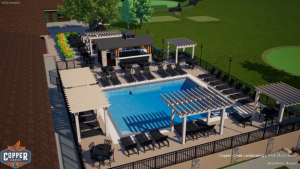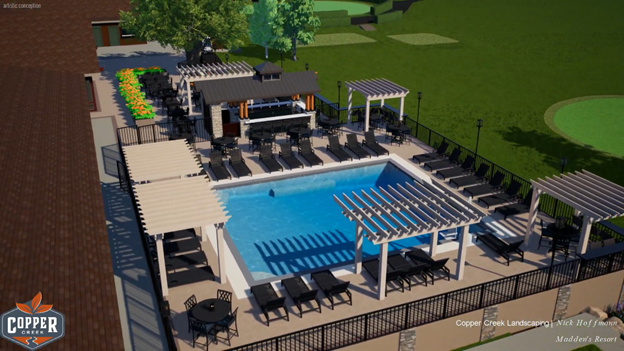 ---
Madden Inn Pool (Indoor)
With access from the lower level of Madden Inn, this indoor pool and hot tub offer great views of Gull Lake and lots of sunlight through the wall of windows and skylights.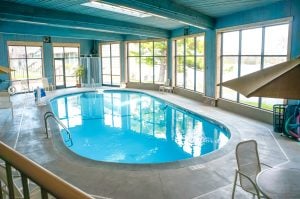 ---
Strawberry Ridge Pool (Outdoor)
Enjoy hilltop views from this family-friendly heated outdoor pool, wading pool, hot tub, and sauna located near Mission Point.  Access from below near guest laundry or from on top of Strawberry Hill.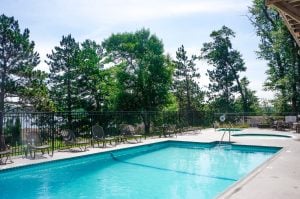 ---
Wilson Bay Pool (Indoor)
Wander over to Wilson Bay on Madden's west shoreline to find another indoor pool and sauna.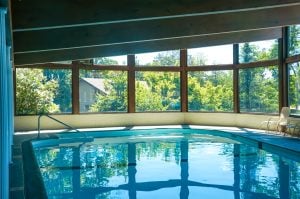 ---
Beaches
Steamboat Bay Beach
Head to this beach if you're looking for family fun in the sun! Starting mid-June, enjoy several larger-than-life inflatables, including water slides, a launch pad, and jungle gyms, for kids and kids-at-heart (adult supervision is required). Also find lounge seating, docks, and proximity to the Marina. It's also the perfect spot to enjoy the peacefulness of the morning as you watch the sunrise.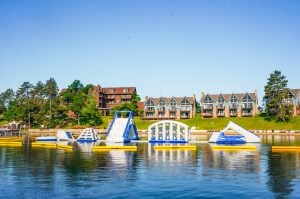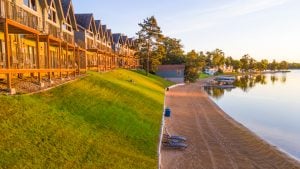 ---
Mission Point Beach
Located at the very point of the peninsula, Mission Point Beach is a peaceful place to grab your favorite beach read and enjoy some beachside relaxation.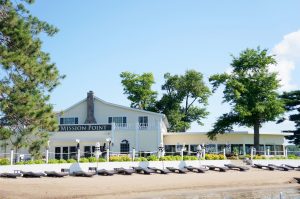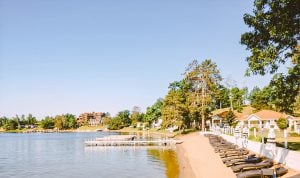 ---
Wilson Bay Beach
By day, enjoy lounging or playing on the sprawling sand beach. By night, head over for unbeatable sunset views.