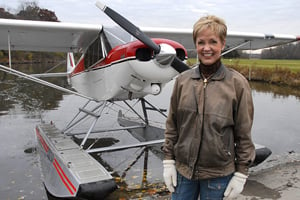 Madden's on Gull Lake has teamed up with Wings Over Water Inc., to offer a Sea Plane Rating and vacation package. Enjoy the comforts of our luxury resort while you train and earn your seaplane certification from some of the top sea plane pilots in the Upper Midwest. This unique partnership promises to bring you the most enjoyable aviation training experience ever provided.
Gull Lake and the Brainerd Lakes area features some of the most beautiful lake country flying available anywhere in the country. The combination of one thousand acres of resort facilities, 63 holes of championship golf, fine dining, and flying are enough to exceed any pilot's expectations.
Madden's offers more recreational amenities than any other midwest resort with Tennis & Croquet Club, full Marina and The Spa at Madden's, located right on the shores of Gull Lake. Whatever your interests, Madden's has something for everyone!
The Sea Plane Rating Package includes four days/three nights lodging, breakfast and dinner each day, golf on our Pine Beach East or Pine Beach West golf courses and a special guest rate at "The Classic at Madden's", Minnesota's only 5-star, Top 100 rated golf course (Golf Digest).
Wings Over Water Inc. will provide you with the opportunity to earn your certification in a Super Cub on floats. A total of six hours of flying time are included, the average time necessary to complete the program.
Madden's on Gull Lake and Wings Over Water Inc. invite you to visit Minnesota's northland for a true taste of the art of Sea Plane Flying. For more information on this unique opportunity contact Ben Thuringer at 800-642-5363.